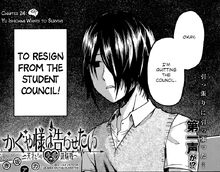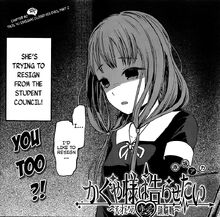 i really like iino and ishigami ship so i might do something about that here. also i dont think anyone will find this easily and i just really love them.
lets start with something simple then i can expand this to be more organised.
similarities between them:-
received mental damage due to negative treatment during middle school

insecure
very limited friends number

helps each other secretly
very not open about their help to each other
rope (?)
their introduction chapter does not make it seem like they are to stay in the manga
imaginative;genre savvy
for a pure ship their thoughts sure are not
mutual hatred
got interested and background checked by kaguya
confront kaguya about her feelings for miyuki
opposites?:-
fujiwara-looks up to and looks down to
rulebreaker and disciplined
vocal and silent about their justice
very first impression to miyuki-savior and lazy
kaguya first impression-good girl and insect
unconsciously demean and compliment
wont and will run for president
misc:-
cover for volume 7 and 9

orange and black background
hearts inside and outside eye
left and right
clipboard and headphone
red and purple text

feather and bird
goldfish and fishes
romance and action
depressed and insecure
socially unacceptable chaotic music preference
flowers
"ew","what do you mean 'ew'?"
"thats what i hate about you"," a pain about the little things"
the principal
fujiwara-stand up to and looks up to
pretty sure they are in denial
destroying any obvious flag event to each other
tesuto ;-;
under
strike
Community content is available under
CC-BY-SA
unless otherwise noted.