Article Notice!



Kaguya thinks this article is incomplete and needs some attention.
You can help her by adding information and polishing things up!
---
Chikatto Chika Chika (チカっとチカ千花っ♡) is the second ending theme of the Kaguya-sama wa Kokurasetai anime series.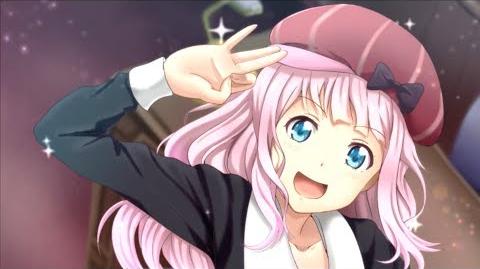 Characters in Order of Appearance
Lyrics
よーい、よーい、
どーんだ YO!

秀知院学園
周知の事実
みんな憧れの生徒会
(ポクポクポクポクポクポクポ)

会長とかぐやさん
石上くんと書記のチカ♡
ゴールデンメンバーと思いませんか?
(書記のチカ、書記のチカ、ラー!)

乱れた国で生きる私たち
誰もが本音 隠してるけど
どんな問題もラブ探偵チカが
解決するわ
(IQ3 でもまかせなさいー!)

しゅきしゅき書記書記初期設定(どーん)
うかうかしてたらすぐ卒業(ふぅ)
ちゅきちゅきどきどきフォーチュンテラー
いつだって 誰だって 恋したらヒロイン

チカラの限り輝くのだ(よっ)
チカっと チカっと チカ千花っ

しゅきしゅきしょきしょき
ちゅきちゅきどきどき
しゅきしゅきしょきしょき
ちゅきちゅきどきどき
森へお帰り♡

yooi, yooi, 
doon da YO! 

shuuchiin gakuen 
shuuchi no jijitsu 
minna akogare no seitokai 
(pokupokupokupokupokupokupo)  
 
kaichou to kaguya-san 
ishigami-kun to shoki no chika 
gooruden menbaa to omoimasen ka? 
(shoki no chika, shoki no chika, raa!)  

midareta kuni de ikiru watashitachi 
daremo ga honne kakushiteru kedo 
donna mondai mo rabu tantei chika ga 
kaiketsu suru wa 
(ai kyu san demo makasenasaii!)  

shukishuki shokishoki shoki settei (doon)  
ukauka shitetara sugu sotsugyou (fuu)  
chukichuki dokidoki foochun teraa 
itsudatte dare datte koi shitara hiroin 

chikara no kagiri kagayaku no da (yo)  
chika tto chika tto chika chika 

shukishuki shukishuki
chukichuki dokidoki 
shukishuki shukishuki 
chukichuki dokidoki 
mori e okaeri 

Trivia
The song only appears on episode 3 as an ending song in the anime.
The song references many instances in the manga.

As Fujiwara poses the characters in the song, she performs actions that the character is most commonly associated with.
Her IQ and the cockroach references Chapter 15 which is a chapter that is not adapted in the anime.
She refers to herself as Love Detective Chika while wearing the hat on multiple instances.
Her character sheet mentions her as Heroine.
Community content is available under
CC-BY-SA
unless otherwise noted.